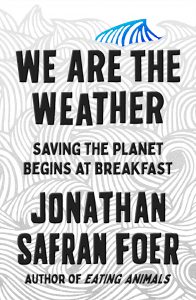 Kalamazoo Public Library's 2020 Reading Together title is We Are the Weather: Saving the Planet Begins with Breakfast by Jonathan Safran Foer.
Foer will speak about his book on Tuesday, March 10 at Chenery Auditorium. This event is free and open to the public.
In We Are the Weather, Jonathan Safran Foer explores the central global dilemma of our time in a surprising, deeply personal, and urgent new way. The task of saving the planet will involve a great reckoning with ourselves—with our all-too-human reluctance to sacrifice immediate comfort for the sake of the future. We have, he reveals, turned our planet into a farm for growing animal products, and the consequences are catastrophic. Only collective action will save our home and way of life. And it all starts with what we eat—and don't eat—for breakfast.
You can get We Are the Weather on our shelves, or through the Kalamazoo Public Library or MeLCat if the K College Library copy is checked out.
About Reading Together
The purpose of Reading Together is to build a stronger community with deeper connections through the common experience of reading the same book and exploring its themes together. When we do that, we engage and learn, not only about ourselves, but more importantly about each other and the world around us.
By experiencing the same book, hearing the author of that work speak right here in Kalamazoo, and examining the book's themes through a local lens, we are able to embrace our similarities and differences from a common point of reference.
Very simply, when we read together, we grow together.