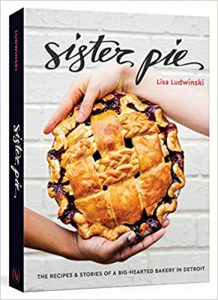 Congratulations to Lisa Ludwinski '06, author of Sister Pie: The Recipes & Stories of a Big-Hearted Bakery in Detroit, which is included in the 2019 list of Michigan Notable Books!
"With 75 recipes, the Sister Pie cookbook pays homage to Motor City ingenuity and all-American spirit. The granddaughter of two Detroit natives created a little corner pie shop in a former beauty salon on the city's east side where no one leaves empty handed. Those who don't have money in their pockets can simply cash in a prepaid slice from the "pie it forward" clothesline strung across the window. This unique and fruitful business model is detailed beside tasty recipes."

Lisa, a theatre arts major at K, was the winner of Comerica Bank's 2014 Hatch Detroit development grant meant to champion and support independent retail businesses in Detroit through funding, exposure, education, and mentoring.  She opened the Sister Pie bakery and coffee shop at 8066 Kercheval in Detroit's West Village neighborhood
The Michigan Notable Books list is administered by the Library of Michigan Each year the list features 20 books, published the previous calendar year, which are about or set in Michigan or the Great Lakes region, or are written by a Michigan author. Selections include nonfiction and fiction books that appeal to a variety of audiences and cover various topics and issues close to the hearts of Michigan residents.
Michigan Notable Books is a statewide program designed to pay tribute and draw attention to the many people, places and things that make Michigan life unique.
Visit Lisa and Sister Pie in person or at http://sisterpie.com and friend her on www.Facebook.com/SisterPie.