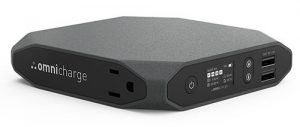 Did you know that the library has Omnicharge battery chargers for you to check out? Omnicharge batteries are portable charging stations that allow you to plug in and sit in places that don't have a convenient power source.
Take one to class, to the quad, to your favorite quiet spot in the library! Charge up and stop worrying about plugging in.
Ask for the Omnicharge battery at the Library Circulation Desk. They circulate for four hours.