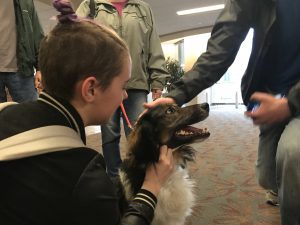 Relax and relieve some stress by spending a few minutes petting a furry animal friend! Therapy dogs will visit campus in the Kalamazoo College Library lobby on Thursday, June 6 from 3 p.m. – 4:30 p.m. De-stress a bit with a canine companion before finals week kicks in.
Date: Thursday, June 6, 2019
Time: 3 p.m. – 4:30 p.m.
Location: Upjohn Library Commons Lobby