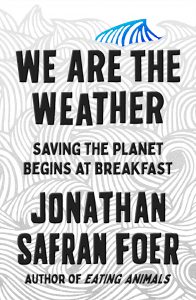 If you were unable to attend Jonathan Safran Foer's presentation on the 2020 Reading Together book, We Are the Weather, you're in luck! You can watch his presentation online!
In We Are the Weather, Jonathan Safran Foer explores the central global dilemma of our time: saving the planet. We have, he reveals, turned our planet into a farm for growing animal products, and the consequences are catastrophic. Only collective action will save our home and way of life. And it all starts with what we eat—and don't eat—for breakfast.
The purpose of Reading Together is to build a stronger community with deeper connections through the common experience of reading the same book and exploring its themes together. Very simply, when we read together, we grow together.