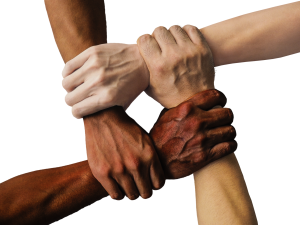 Confronting racism requires white allies to listen, learn, and educate themselves.
Dismantling the legacy of white supremacy in America demands a deeper understanding of the systems of oppression we all live within. The Kalamazoo College Library has a wealth of anti-racism resources both in print and online.
Though the Library building is closed, our online resources are available 24/7. If you would like to read a title we only have in print, your local public library may have an online version or be open for circulating print copies. You can also get online books for free through the Open Libraries project of the Internet Archive. You can also purchase them (used or new) through black-owned booksellers such as Semicolon Bookstore, Source Booksellers, or Brain Lair Books; through local Kalamazoo bookstores This Is a Bookstore, Michigan News Agency, or Kazoo Books; and via other online retailers such as AbeBooks, alibris, Better World Books, or Powell's Books.
We have several titles recommended by ERACCE (Eliminating Racism and Creating/Celebrating Equity) both online and in print.
Further, Medium.com recently published a Detailed List of Anti-Racism Resources that includes books, movies, articles, and more.
Also check out these titles:
Ebooks
Print Books