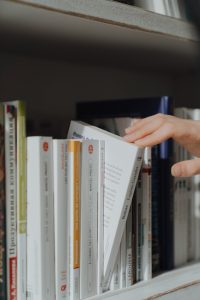 Students, faculty, and staff may now request K Library books through Library OneSearch for in-person pick up! Please remember the Library building is closed until January 19. You will be able to start requesting K Library books immediately; ILL and MeLCat books will be requestable starting January 11.
From January 11-15, books ready for pickup will be available at the ULC receiving doors on Academy Street.
You will receive an email notifying you that your item is ready for pick up. For easy pick up, all items will already be checked out to you.
You may pick items up from 10am-4pm, Monday through Friday at the receiving area on the Academy Street side of the Library.

Book pick up will not be available Monday, January 18 (MLK Day).​

The double doors located on the Academy Street side of the library are locked. You will need to ring the buzzer at the door and wait to be let in. Please be patient!
Locate items by your name, take your books from the cart, and exit the same way you entered the building. Please ensure the door closes completely after visiting. ​
Please wear a face mask when picking up items to keep Information Services staff safe. Patrons are welcome to use the available hand sanitizer near the pick up cart when picking up items.
For staff safety, all doors leading into the building are locked. No one other than designated staff is allowed to enter the main library space.​
Starting January 19, you may pick up your items on a cart by the Reference Desk in the Library lobby during building open hours:
Monday – Thursday: 9am – 9pm
Friday: 9am – 5pm
Saturday: CLOSED
Sunday: 3pm – 9pm
Face masks are required in the Upjohn Library Commons building.
If you have a concern about your requests or need assistance placing a hold, please email circulation@kzoo.edu.