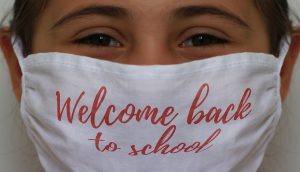 The Library is here for you this Winter Quarter! Things may look different, but our services are available.
Masks and Distancing
Masks are required in the Library building.
Please remember to socially distance while you are in the Library building, especially on stairways, the elevator, and in seating areas. Six foot distances are marked at service points like the Circulation Desk.
For more information about expectations and College plans, see the Kalamazoo College COVID-19 Information website.
Hours
Winter Quarter 2021 Hours:
Weeks 1-2 (January 4 – 16): CLOSED
Sunday-Monday Week 3, January 17-18: CLOSED
Starting Tuesday, January 19 (Tuesday of Week 3):
Monday – Thursday: 9am – 9pm
Friday: 9am – 5pm
Saturday: CLOSED
Sunday: 3pm – 9pm
Circulation Services
You may request Kalamazoo College Library items through Library OneSearch. We will retrieve the books for you, and you will get an email when your materials are ready. From January 11-15, books ready for pickup will be available at the ULC receiving doors on Academy Street. Starting January 19, you may pick up your items on a cart by the Reference Desk in the Library lobby during building open hours (expect a 24 hour processing delay). Please see these instructions about picking up your materials: https://library.kzoo.edu/blog/book-pickup-now-available/.
MeLCat and ILL
Starting January 11, MeLCat and ILL will be available for faculty, staff, and students. You will receive an email when your materials are ready for pickup.
The MeLCat Visiting Patron service is temporarily suspended. Patrons from other MeLCat libraries are still able to request our books through MeLCat, but will not be able to check out materials in person at the Circulation Desk. Kalamazoo College students, faculty, and staff are temporarily unable to borrow materials in person from other MeLCat Visiting Patron participating libraries as well.
Returns
Please return all items (including MeLCat and ILL) in the Book Drop on Academy Street. They will be quarantined for 72 hours.
Reserves
Print reserves are suspended during Winter 2021. Your instructor may have materials for your course on Moodle, Teams, or another platform.
Study Space
We realize students need spaces for study, and are making some limited seating available. Study rooms and classrooms are not available for study during Winter 2021, but there is limited seating for study and at computers throughout the first, second, and third floors. Seating is first come, first served.
Please:
Do not move furniture
Stay six feet apart
Wear your mask correctly at all times
No eating or drinking
Wipe down your study area when you leave with the cleaning wipes provided
Reference Services
Reference services continue remotely. Make a Research Rescue appointment with us and we can meet with you on Zoom or Teams! You can also email us at reference@kzoo.edu.
Archives and Rare Book Room
You can make an appointment to use materials in person in the Archives or Rare Book Room, or we can answer your questions via email, Teams, or Zoom. Contact us at archives@kzoo.edu or rarebookroom@kzoo.edu.
Other Services
Other services in the building (Writing Center, ESL Help, Center for New Media Design, Media Services, Help Desk, etc.) have other hours and service changes. Please check their websites for details.