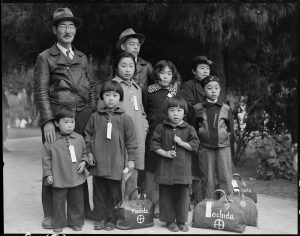 Today in 1942, President Franklin Roosevelt signed Executive Order 9066, authorizing the internment of nearly 75,000 American citizens of Japanese ancestry. 
In 1942, the U.S. government hired Dorothea Lange, known for her FSA photographs like Migrant Mother, to make a photographic record of the "evacuation" and "relocation" of Japanese-Americans. She was opposed to the relocation but took the commission because she believed "a true record of the evacuation would be valuable in the future."
The military seized her photographs, depositing them in the National Archives, where they remained mostly unseen and unpublished until 2006.
Check out this website by Anchor Editions, where you can see some of Lange's photos from the National Archives, including the captions she wrote and quotes from people who were imprisoned in the camps.