Noise Level
Main Space

Generally Medium
Reading Room

Usually Quiet
Floor Description
The center of the floor contains the main staircase, current periodicals around the back of the staircase, a printer, and computers with a scanner. Computers and printers on this floor are for use by Kalamazoo College students, faculty, and staff only.
This floor has two quiet booths that can be reserved. If they are not reserved, they are available first come, first served.
This floor is generally not a quiet floor, but the Reading Room is usually a quiet area.
The following spaces are on the second floor:
South
Books with call numbers HN through JZ
Study carrels with computers and a printer
Reading Room with tables, comfortable seating, and fireplaces
Comfortable seating area
Current newspapers
Printer
Bound periodicals on compact (moveable) shelving
Group and individual study tables
Quiet booth #2
Study rooms 232, 233, 234, and 235
North
Books with call numbers A through HD
Group study tables and individual study carrels near windows
Quiet booth #1
Title IX Coordinator Office (room 217)
Elevator and a staircase
Study rooms 211 and 212
Wheelchair accessible men's and women's restrooms
Classroom 213
Staff offices
Books with call numbers HD through HN
Group and individual study tables
Floor 2 Map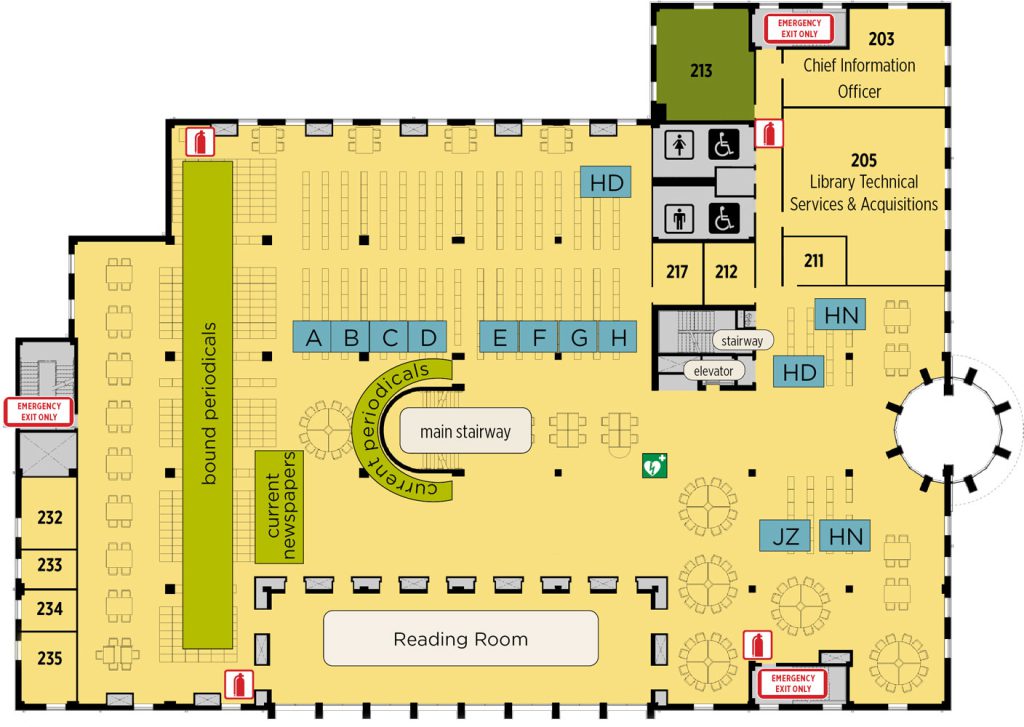 Photographs