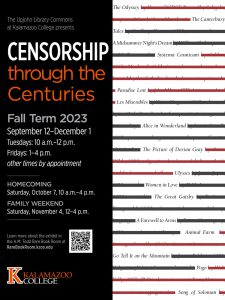 Come visit the A.M. Todd Rare Book room and see our Fall exhibit, Censorship through the Centuries.
The exhibit runs from September 12 – December 1, 2023. The Rare Book Room will be open Tuesday: from 10:00a.m.-12:00p.m., and Friday: 1:00p.m.-4:00 p.m. Other times are available by appointment by contacting Lisa Murphy, College Archivist, at Lisa.Murphy@kzoo.edu or 269-337-7151.
The A.M. Todd Rare Book Room is in Upjohn Library Commons, Room 326.