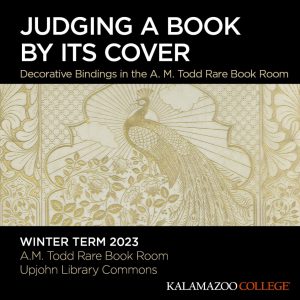 The A.M. Todd Rare Book Room at the Kalamazoo College Library is hosting Judging a Book By Its Cover, an exhibit featuring decorative bindings in the A.M Todd Rare Book Room.
Come check it out in ULC Room 326!
Dates: January 10 – March 17, 2023
Days/Times: Tuesdays: 10 a.m. – 12 p.m., Fridays: 1 p.m. – 4p.m., other times by appointment
The rare book collection contributes to the educational program of the college by introducing students to unique primary source materials in the context of their academic course work and through regularly scheduled public exhibitions.
Questions? Contact rarebookroom@kzoo.edu.